If you are looking for the best Muskoka golf courses then you are at the right place. Welcome to the beautiful and enchanting Muskoka region, where nature's wonders merge with the joy of golfing. If you're a golf enthusiast, get ready for an extraordinary experience like no other!  With its stunning fairways, challenging courses, and breathtaking views, Muskoka golf courses offer a golfing adventure that will leave you in awe.
Let's find out the best Muskoka golf courses
Deerhurst Highlands Golf Course
Well-Maintained Course: The golf course is beautifully kept and maintained, ensuring a high-quality playing surface from tee to green. The course is in great shape and provides a fair challenge for all levels of players.
Stunning Scenery: With fantastic vistas and raised tee decks, Deerhurst Highlands offers breathtaking views and a visually appealing golfing experience. The course is surrounded by scenic landscapes, adding to the overall enjoyment of your round.
Variety of Tee Decks: The course provides multiple tee blocks, allowing golfers to choose the level of difficulty that suits them best. Whether you're a beginner or an experienced player, you can find a suitable tee deck to match your skill level.
Challenging Holes: Deerhurst Highlands features a mix of difficult and easy holes, providing a great challenge for golfers. Some holes require target shots and strategic play, making it a rewarding experience for those who enjoy a test of skill.
Excellent Staff and Service: The staff at the golf course are friendly, welcoming, and eager to assist you. From check-in to exiting, they provide excellent customer service and ensure that your needs are met throughout your visit.
Convenient Navigation: The course is designed in a way that allows for easy navigation, making it straightforward to move from one hole to the next. This ensures a smooth and enjoyable golfing experience without feeling overwhelmed or lost.
Marshal Assistance: The course marshal is helpful and ensures a relaxed pace of play. They prioritize your enjoyment and won't rush you, allowing you to fully appreciate your time on the course.
Clubhouse Amenities: Deerhurst Highlands is part of the Deerhurst Resort complex, which offers additional amenities such as dining options. Antlers Steakhouse provides great food for post-golf enjoyment, enhancing your overall experience at the course.
Beautiful Facilities: The golf course facilities are well-maintained and aesthetically pleasing. From the clubhouse to the sand traps, attention is given to creating an attractive and enjoyable environment for golfers.
The Rock Golf Course
Challenging and Beautiful: The course provides a challenging yet picturesque setting, rewarding well-executed shots and offering stunning views. The Canadian shield rocks serve as unique backdrops for several holes, adding to the visual appeal.
Superb Maintenance: The course is superbly maintained, ensuring excellent playing conditions. It's well-designed and carefully manicured to provide an enjoyable and challenging golfing experience.
Scenic Views: The course boasts unreal views and landscapes, immersing you in the natural beauty of the surroundings. You can expect to enjoy the stunning scenery while playing your round.
Great Value: The Rock Golf Course offers great value packages and deals, such as the Sunday night package mentioned in a review. These offerings provide a combination of golf, delicious food, and entertainment, ensuring a memorable experience at an affordable price.
Friendly Service: The staff at the course are friendly and prompt, providing excellent service to enhance your overall experience. From the general manager to the head chef, the team takes care of guests and ensures their satisfaction.
Dining Options: The clubhouse at The Rock Golf Course offers a variety of dining options. Reviewers have praised the food, including the best Caesar salad and delicious roast beef. The menu is extensive, the portion sizes are generous, and the prices are fair.
Extensive Wine List: The course features an extensive wine list with reasonably priced options, allowing you to enjoy a variety of beverages during your visit.
Ample Parking: The facility provides ample parking for guests, ensuring convenience and ease of access.
Recommended Reservations: To secure your preferred tee time or dining experience, reservations are recommended. This allows you to plan your visit and ensures a seamless experience.
Muskoka Highlands Golf Links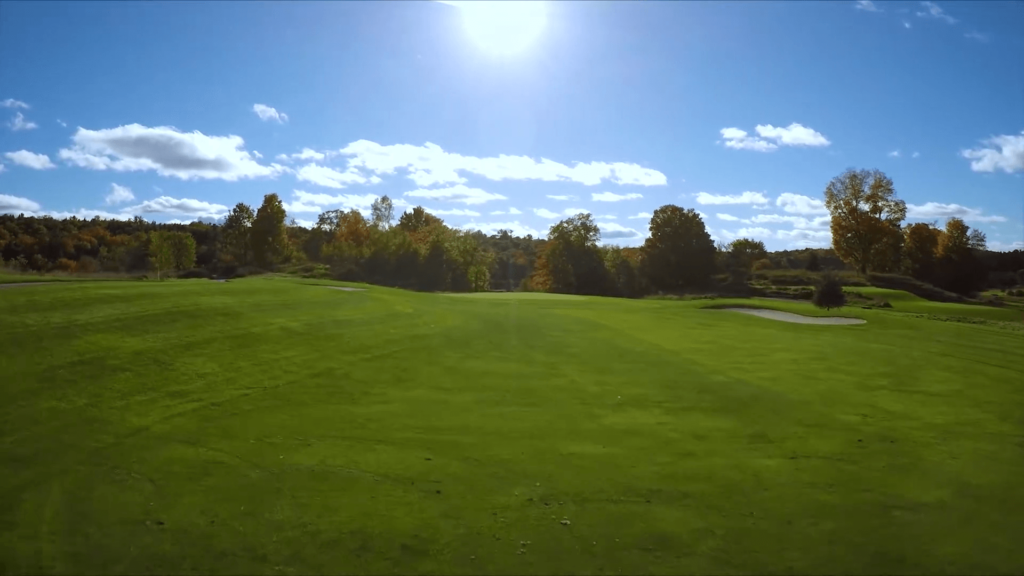 Wide Fairways and Rolling Greens: The course provides wide fairways, allowing players of all skill levels to enjoy their round. The rolling greens add an element of challenge and excitement to the game.
Food Truck and Savoury Treats: The presence of a food truck at the course is a delightful addition, offering a variety of menu options and savoury treats for golfers to enjoy during their visit.
Inviting and Relaxed Atmosphere: Muskoka Highlands Golf Links has an inviting and relaxed atmosphere, creating a pleasant golfing environment. The spacious Scottish links-like terrain adds to the charm.
Designed for All Skill Levels: The course is designed to accommodate players of varying skill levels. Whether you're a beginner or an experienced golfer, you can find enjoyment and suitable challenges on the course.
Dog-Friendly Environment: Muskoka Highlands welcomes well-behaved dogs to accompany golfers on the course, providing a unique and pet-friendly experience for dog owners.
Engaging Owner: The owner, Don McKay, is friendly and takes the time to chat with golfers, adding a personal touch to the experience. His presence and interaction with guests contribute to the welcoming atmosphere.
Scenic and Challenging Course: The course offers scenic views and a fair level of challenge, making it enjoyable for golfers who appreciate the natural beauty of the surroundings while testing their skills.
Well-Maintained Fairways and Greens: Muskoka Highlands ensures that the fairways and greens are kept in great shape, providing a quality playing surface for golfers.
Flexible Playing Options: Golfers have the flexibility to play 9, 12, or 18 holes, catering to their preferences and schedules.
Affordable Rates: The course offers great rates, making it accessible and budget-friendly for golfers.
Friendly Pro Shop: The pro shop staff are friendly and helpful, providing assistance and guidance to ensure a smooth and enjoyable golfing experience.
Comfortable Carts: The course provides comfortable golf carts, enhancing the convenience and enjoyment of navigating the course.
Unique Links-Style Course: Muskoka Highlands stands out for its links-style course, offering a distinctive golfing experience that is not commonly found in the Muskoka region.
Refreshments and Food: The course offers wonderful refreshments and food options, ensuring that golfers have satisfying dining experiences during their visit.
South Muskoka Curling and Golf Club
Course Quality: South Muskoka Curling and Golf Club is known for providing exceptional golfing experiences with great value. The course is highly regarded, earning the title of a "hidden gem" by the Toronto Star.
Semi-Private: The course and clubhouse are open to members, their guests, and the general public. Whether you're a member, visiting with a member, or simply stopping by for a round of golf, curling, or enjoying the restaurant, you are welcome at South Muskoka.
Course Design: The golf course was designed by Clinton E. (Robbie) Robinson, a member of the Canadian Golf Hall of Fame. It features a beautiful blend of majestic trees and granite outcroppings that are characteristic of Muskoka's natural landscape. The first 9 holes opened in 1974, and the second 9 holes were added five years later.
Challenging and Fair: The course offers a fair but challenging layout. It spans 6,340 yards from the tips and features tree-lined, rolling fairways, challenging rough areas, and frequent changes in elevation. It provides an enjoyable and testing experience for golfers of all skill levels, including long hitters.
Junior Golfers: South Muskoka values junior golfers and aims to create an inclusive and welcoming environment for young players of all ages and abilities. Junior members receive priority access to the Junior Program, preferred pricing for instructional clinics and camps, and participation in member events.
Registration and Programs: Registration for golf programs is accepted on a first-come, first-served basis, with priority given to South Muskoka Junior Members. Most programs require a minimum of 5 participants to run.
Overall, South Muskoka Curling and Golf Club offers a high-quality golf course with a challenging yet fair design. It welcomes members, guests, and the public to enjoy the facilities, and places a strong emphasis on providing a positive experience for junior golfers.