Do you want to explore Muskoka beach? When you think of Muskoka, Ontario's cottage country, sandy beaches might not be the first thing that comes to mind for your weekend getaway or vacation. It's often associated with dense forests, maple trees, and the iconic Canadian Shield formations that dot the landscape. However, brace yourself for some exciting news! Muskoka's many lakes, both large and small, are home to an abundance of sandy beaches.
These beaches offer a variety of experiences. Some are hidden gems, tucked away from urban areas, providing a peaceful escape from the hustle and bustle of the popular lakes in the region. On the other hand, there are family-friendly beaches that buzz with activity, attracting locals and visitors alike. These often come with adjacent parks, playgrounds, and convenient amenities such as entertainment options, accommodations, restaurants, and shops.
With over 30 official public beaches in this picturesque corner of Ontario, finding the perfect beach for your needs can be a delightful challenge. To make things easier, we've curated a list of the best beaches in Muskoka, helping you plan your itinerary with ease.
So, whether you seek solitude or a vibrant atmosphere, Muskoka has you covered with its stunning sandy beaches. Don't miss out on the chance to soak up the sun, swim in the crystal-clear waters, and create lasting memories amidst the natural beauty of Muskoka's lake shores.
Why should you visit Muskoka?
Muskoka is a beautiful place in Ontario, Canada, often called a cottage country. Many people visit Muskoka Beach during the warmer months to enjoy its natural beauty. It has rocky shores, tall pine trees, and stunning turquoise water in places like Georgian Bay. On the other side, there are thick forests, lots of lakes, and many animals near Algonquin Park. Muskoka has around 1,600 lakes, with Lakes Joseph, Muskoka, and Rosseau being the most famous ones. These lakes are all connected. The water from these lakes starts in Algonquin Park and flows west before reaching Georgian Bay. Muskoka is a remarkable destination with its breathtaking landscapes and many lakes to explore.
What is the distance between Toronto and Muskoka Beach?
It's a relatively short drive of about 126 miles or 203 km, taking around 2 hours and 12 minutes without any stops. But hey, why not make your trip more interesting by taking breaks along the way? There are plenty of attractions and beautiful sights to explore during your drive. So, sit back, relax, and get ready to enjoy the scenic journey from Toronto to the charming landscapes of Muskoka.
When is the best time to visit Muskoka beach?
If you're planning a trip to Muskoka, it's important to know the best time to go. The summer months of July and August are the busiest and most popular, with great weather for enjoying the lakes, cottages, and attractions. But please keep in mind that during this time, there are usually a lot of people, and it can get quite crowded. If you prefer fewer people and still want pleasant weather, consider visiting in the fall. The forests come alive with beautiful colors, the temperatures are comfortable, and weekdays are less crowded than weekends. On the other hand, if you love winter activities and don't mind the cold, winter in Muskoka can be fantastic. You can enjoy activities like skating, maple syrup festivals, and snowshoeing. Whether you choose summer, fall, or winter, there's always something special to experience in Muskoka throughout the year.
Which are the best beaches in Muskoka
Dwight Beach
Arrowhead Provincial Park
Christian Beach
Port Sydney Beach
Gull Lake Rotary Park
Muskoka Falls Beach
Kirby's Beach
Muskoka Beach Park
Rosseau Waterfront Park
Windermere Park
Dwight Beach: Where Nature's Beauty Meets Lakeside Bliss!
Dwight Beach is a hidden gem located in the charming town of Dwight, along the shores of Lake of Bays in Muskoka. It's a place that holds a special spot on our list of the best beaches in the area.
Dwight Beach Direction
In the east of downtown Huntsville for 20 minutes on Highway 60, the same road that leads to the famous Algonquin Provincial Park, you'll discover the beauty of Dwight Beach. The beach unfolds along the stunning Dwight Bay, offering breathtaking views of the expansive Lake of Bays, which boasts over 170 kilometers of shoreline. The soft sand stretches for 150 meters, with the widest section in the middle. And let's not forget about the delightful "Dwight Pier," a large dock that provides a perfect vantage point to soak in the panoramic water views.
Things to do in Dwight Beach
Although there are no lifeguards on duty, parents can rest assured knowing that the water at Dwight Beach is shallow and safe for little ones to enjoy, as long as they are supervised. You'll find convenient picnic tables for a leisurely meal, and nearby Gouldie Park offers public washrooms. Ample free parking is available within a short walk from the beach, including designated areas for RV and trailer parking. And if you're a boating enthusiast, there's a public boat launch nearby too.
While the beach can get quite busy, especially with families and children, arriving early in the day guarantees the best swimming conditions. Alternatively, head to the quieter eastern end of the beach, where you can find shady spots to relax and unwind.
Feeling hungry? Take a leisurely stroll to Dwight Market, just a stone's throw away, and you'll find everything you need for a delightful family picnic.
After a day filled with beach fun, consider extending your stay at one of the fantastic resorts in Huntsville. Some of these charming and luxurious accommodations even offer their own private beaches, providing the perfect setting for a romantic getaway with your special someone.
Immerse yourself in the beauty of Dwight Beach, create lasting memories, and enjoy the tranquility and wonders of Muskoka's captivating beaches.
Beautiful Arrowhead Provincial Park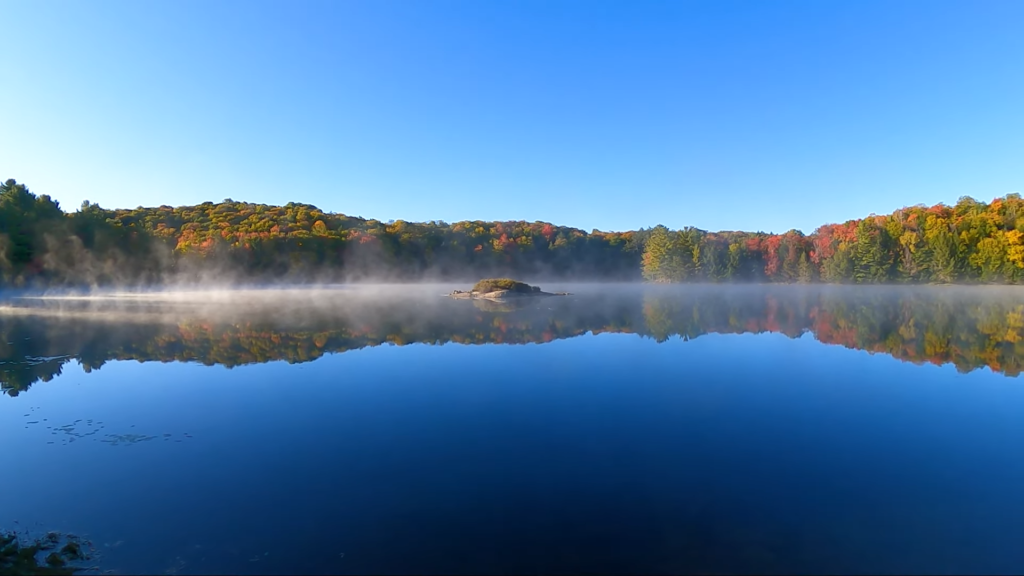 Arrowhead Provincial Park is a fantastic destination in Muskoka that offers beautiful beaches.
Arrowhead Provincial Park Direction
The park is centered around Arrowhead Lake and is just a 15-minute drive from the charming town of Huntsville, which is renowned as one of the best small towns in Ontario. It's also a popular wilderness area easily accessible from Toronto, as it's only a two-hour drive from the city.
Things to explore in Arrowhead Provincial Park
You'll find several lovely sandy beaches along the shoreline of Arrowhead Lake. The quietest and most secluded beach, Roe Beach, is a bit farther from the parking lot but definitely worth the walk. You can reach all the beaches by following the trails, or if you have a kayak or canoe (or plan to rent one), you can easily paddle your way there.
If you're traveling with kids, it's important to note that there are no lifeguards on duty, so it's essential to keep a close watch on them. While the beaches have shallow waters, some areas of the lake can get deep, so caution is necessary.
Mayflower Lake is another delightful spot in the park that is worth exploring, especially if you enjoy fishing. And if you're looking to spend more time in the park, you have the option to pitch a tent or park your RV. There are various serviced and un-serviced camping lots available to suit your needs.
Arrowhead Provincial Park offers a perfect combination of natural beauty, serene beaches, and recreational activities. Whether you're visiting for a day trip or planning to stay overnight, you'll have a memorable experience surrounded by the wonders of nature.
Christian Beach: Where Serenity Meets Spectacular Scenery
How to visit Arrowhead Provincial Park
If you travel towards the western region of Muskoka, specifically near Honey Harbour and Georgian Bay, the scenery changes a lot. Instead of dense forests and small lakes, you'll find a more rugged and rocky landscape around a big body of water called Georgian Bay.
One special place in this area is Christian Beach on Beausoleil Island in Georgian Bay Island National Park. It's a popular spot for both adventurous people and those who just want to enjoy the outdoors and soak up the sun. To get there, you can only go by boat, water taxi, or canoe/kayak. The beach is located on the western side of the island and is quite secluded. There's not much water traffic or cars around, so it's a peaceful place to relax. The sunsets here are also really beautiful.
Beausoleil Island has lots of hiking trails, some of which lead right to the beach. If you want to make your beach experience extra special, you can rent one of the park's cute and simple cabins. There are only four cabins available, but they have a great view of the water and beach, so it's worth reserving one if you can.
Christian Beach on Beausoleil Island is a hidden treasure where you can enjoy nature's beauty and make lasting memories. Whether you're up for outdoor adventures, sunbathing, or staying in one of the cozy cabins, this beach offers a unique and unforgettable experience in Muskoka.
Port Sydney Beach: Your Gateway to Tranquility and Adventure in Port Sydney!
Port Sydney on Mary Lake is famous for its friendly reputation and humorous sign that describes it as home to "800 nice families and one old grouch." This charming community offers a wonderful beach experience for the whole family.
How to drive to Port Sydney Beach
Located just a short drive east of Highway 11 before reaching Huntsville, this beautiful sandy beach stretches for 80 meters and is conveniently situated near the center of Port Sydney.
Things to explore in Port Sydney Beach
What makes Port Sydney Beach even more special is its accessibility. Recently, a new 50-meter-long ramp and mobility mats have been added, making it one of the easiest beaches in Muskoka to access, both on land and in the water. The parking area is also convenient, with a paved path and handrail that lead directly to the waterfront. There are plenty of benches where you can relax and enjoy the view.
In addition to the beach, you'll find other amenities nearby, such as a boat launch, docks, a wharf, and a shelter. Restrooms are available for your convenience. After your time at the beach, make sure to visit the community's famous waterfalls and the "Hope" tree, which are just a short walk or drive away off Highway 10.
If you visit Port Sydney during the fall season, you're in for a treat. Muskoka's autumn colors are truly spectacular, usually appearing from late September to mid-October. It's a particularly lovely time to take in the scenery and enjoy the beauty of the area.
Port Sydney Beach is a delightful destination where you can create wonderful family memories. Embrace the warm community spirit, relax on the sandy shores, and explore the nearby attractions. This is a place where everyone can find joy and happiness.
Gull Lake Rotary Park: A Tranquil Haven in Gravenhurst
Discover a Relaxing Oasis Gull Lake Rotary Park beckons you to take a break from the busyness of life and immerse yourself in tranquility. Find respite under the shade of towering trees or spread out a blanket on the soft, sandy beach. This park is the perfect setting for a leisurely picnic lunch, where you can savor delicious food while taking in the breathtaking surroundings.
A Haven of Recreation This charming park offers a wealth of recreational activities to suit every interest and age group. Engage in a friendly game of baseball on the well-maintained diamond, or showcase your tennis skills on the courts provided. For water enthusiasts, floating docks provide easy access to the glistening waters of Gull Lake. Dive in for a refreshing swim or simply soak up the sun's rays on the sandy shoreline.
Fun in the Sun Gull Lake Rotary Park caters to those seeking an active day in the outdoors. Challenge friends and family to a lively game of beach volleyball, where the soft sand becomes your playing field. Feel the sand between your toes as you dive, spike, and set your way to victory. Afterward, cool off with a dip in the inviting waters of Gull Lake.
Convenience and Amenities With its convenient location just a few streets away from Gravenhurst's main drag, Gull Lake Rotary Park is easily accessible for visitors. Ample parking is available in the large parking lot off Brock Street, providing convenience and ease of access. Restrooms are also conveniently located within the park, ensuring comfort and convenience for all.
Nature's Serenade As you stroll through Gull Lake Rotary Park, allow nature to serenade you with its symphony of sounds. Listen to the gentle rustling of leaves in the breeze, the melodic chirping of birds, and the soothing lapping of waves on the shore. Let the park's serene ambiance and natural beauty envelop you, rejuvenating your senses and revitalizing your spirit.
Create Lasting Memories Whether you're seeking an active day of recreation or a tranquil moment of relaxation, Gull Lake Rotary Park offers the perfect backdrop for creating lasting memories. Watch as children laugh and play, families gather for a leisurely picnic, and friends engage in friendly competition. Capture the essence of these precious moments and cherish them for years to come.
Visit Gull Lake Rotary Park in Gravenhurst and experience the harmony of nature, recreation, and relaxation. Bask in the park's natural splendor, partake in exhilarating activities, and relish the joy of spending quality time with loved ones. Allow this tranquil haven to rejuvenate your spirit and leave you with cherished memories that will endure.
Majestic Beauty of Muskoka Falls Beach in Bracebridge
Nestled harmoniously between two mesmerizing sets of waterfalls, Muskoka Falls Beach in Bracebridge offers an enchanting escape from the ordinary. Located conveniently just off Highway 11 at the intersection of Highway 118, this sandy haven beckons nature enthusiasts and adventure seekers alike. Join us as we embark on a journey to uncover the breathtaking allure of Muskoka Falls Beach.
A Nature Lover's Paradise Prepare to be awe-struck as you set foot on the shores of Muskoka Falls Beach. Situated in the heart of Bracebridge, this hidden gem grants you exclusive access to an extraordinary spectacle of nature's grandeur. The beach grants visitors an unparalleled view of the top falls, showcasing the sheer power and magnificence of these cascading wonders. Marvel at the captivating sight of water gracefully tumbling down into a vast gorge, a testament to the immense strength and eroding prowess of the falls that has spanned thousands of years.
Conveniently Accessible and Parking Made Easy Convenience and accessibility are at the forefront of Muskoka Falls Beach. With roadside parking available, accessing this natural wonder is a breeze. Leave your vehicle just moments away from the beach, allowing you to seamlessly transition into a day filled with relaxation and exploration. As you enter the beach from Bethune Drive, a large parking lot off Brock Street welcomes you, ensuring a stress-free and hassle-free experience from the moment you arrive.
A Serene Haven Unmonitored Muskoka Falls Beach offers a unique setting for those seeking tranquility and a sense of serenity. Unlike some other bustling beaches, this hidden gem remains unmonitored, providing an idyllic escape for those who prefer a more laid-back atmosphere. Take advantage of the peaceful ambiance as you stroll along the sandy shoreline or find solace beneath the shade of towering trees. Allow the gentle sound of the rushing falls to transport you to a state of pure relaxation and contentment.
Nature's Masterpiece in Motion Immerse yourself in the captivating beauty of Muskoka Falls Beach, where nature's masterpiece is on full display. Witness the enduring power of water as it gracefully carves its way through the rugged gorge, leaving behind a breathtaking scene that mesmerizes all who behold it. Each visit to this wondrous beach offers a fresh perspective on the ever-evolving landscape shaped by the falls' relentless erosion. It's an awe-inspiring testament to the eternal dance between water and land, a sight that will leave an indelible imprint on your soul.
An Oasis of Tranquility Muskoka Falls Beach provides a tranquil retreat for those seeking respite from the fast pace of modern life. Step away from the noise and chaos and immerse yourself in the serenity of this natural oasis. Feel the soft sand beneath your feet as you stroll along the shoreline, letting the gentle breeze caress your face. Find solace in the simplicity of a picnic lunch on the beach, basking in the warm embrace of the sun. Let the mesmerizing symphony of water and nature's whispers transport you to a state of pure bliss and rejuvenation.
Unforgettable Memories Await Plan your visit to Muskoka Falls Beach and unlock the door to an unforgettable experience. Be captivated by the unspoiled beauty of the falls, lose yourself in the tranquility of the sandy shores, and allow the magic of this enchanting location to envelop your senses. Muskoka Falls Beach invites you to embark on a journey of discovery, where nature's captivating allure takes center stage. Whether you're seeking a moment of quiet contemplation, a scenic spot for a leisurely walk, or a place to reconnect with loved ones, Muskoka Falls Beach promises an extraordinary escape that will leave you with cherished memories
Feel the Beauty of Kirby's Beach in Bracebridge
Nestled on the pristine shores of Lake Muskoka, Kirby's Beach stands as a beloved destination for locals and visitors alike. With its sandy beach, ample picnic areas, and a delightful playground, this picturesque spot has something for everyone. Let's delve into the allure of Kirby's Beach, where cherished memories are made amidst breathtaking surroundings.
A Popular Haven of Tranquility Kirby's Beach has earned its reputation as one of the most sought-after beaches in Bracebridge. Offering a serene escape from the hustle and bustle of everyday life, this charming location beckons you to unwind and immerse yourself in the beauty of Lake Muskoka. The soft, sandy beach provides a comfortable space for sunbathing and relaxation, while the surrounding grassy areas invite picnickers to spread out their blankets and savor a delightful meal amidst nature's embrace.
Endless Fun for All Ages Young ones and the young at heart will find joy in the vibrant playground that awaits at Kirby's Beach. Let laughter fill the air as children explore the play structures and create unforgettable memories. The beach's family-friendly atmosphere ensures that everyone can enjoy a day of leisure and recreation in a safe and welcoming environment.
Swim, Splash, and Revel in the Waters As you wade into the refreshing waters of Lake Muskoka at Kirby's Beach, you'll discover a delightful aquatic playground. The beach's shallow depths allow swimmers to venture far from the shore, providing ample room to bask in the sun-drenched paradise and escape the crowds. Whether you're embarking on a leisurely swim or engaging in water activities, the buoyed-off section ensures a safe and enjoyable experience for all.
Convenient Amenities and Ample Parking Kirby's Beach aims to make your visit as convenient and enjoyable as possible. On-site restroom facilities provide comfort and convenience, while the abundance of parking spaces ensures stress-free access to this coastal haven. Whether you choose to arrive by car or stroll along the scenic route, finding a parking spot will be a breeze, allowing you to focus on embracing the tranquility and beauty that awaits.
A Beloved Local Gem Kirby's Beach holds a special place in the hearts of both locals and tourists. Its pristine shores and well-maintained surroundings make it an inviting destination for those seeking solace and connection with nature. The attentive care given to the beach's upkeep, including the visits from the adorable canine "goose patrol," ensures a clean and inviting environment for all to enjoy.
Unforgettable Experiences Await For a truly memorable day by the water, Kirby's Beach is a must-visit destination. Bask in the warm embrace of the sun as you lounge on the grass or stroll along the sandy shoreline. Capture precious moments of laughter and play as your children explore the playground or build sandcastles. Indulge in a leisurely picnic surrounded by breathtaking vistas. From the well-kept washrooms to the shallow, crystal-clear waters, every aspect of Kirby's Beach is designed to provide an extraordinary experience.
Plan Your Visit to Kirby's Beach Prepare for an adventure that will leave you with cherished memories at Kirby's Beach in Bracebridge. Whether you're seeking a relaxing day of sun-soaked bliss or a fun-filled outing with loved ones, this enchanting destination promises an unforgettable experience. Lose yourself in the natural beauty that surrounds you, and allow the soothing sounds of the waves to transport you to a place of pure serenity. Kirby's Beach awaits, ready to create lasting memories that will linger in your heart for years to come.
Muskoka Beach Park: Where Nature and Fun Collide in Gravenhurst!
As you embark on this scenic route, connecting Gravenhurst to Bracebridge, you'll be captivated by the breathtaking fall colors that adorn the surroundings, enhancing the park's allure. Just a short drive from downtown Gravenhurst, Muskoka Beach Park boasts a pristine sandy beach, inviting you to immerse yourself in the tranquility of Lake Muskoka.
A Sandy Paradise Beckons Muskoka Beach Park is renowned for its stunning sandy beach, considered one of the finest in the region. Stretching far into the crystal-clear waters of Lake Muskoka, this beach offers ample space for visitors to wander and explore. You'll find yourself enchanted by the soft sand beneath your feet as you venture further from the shore, with the reassurance that the lake's sandy bottom is never far away. The beach's expansive nature ensures that everyone can find their own little piece of paradise to bask in the sun and enjoy the cool waters.
Lake Muskoka: A Natural Wonder Lake Muskoka is a jewel among Ontario's beautiful lakes, captivating visitors with its stunning shorelines and serene ambiance. To fully experience the lake's wonders, consider renting a boat, bringing your own, or embarking on one of the unforgettable cruises aboard a genuine steamboat. Let the gentle ripples of the water and the breathtaking views transport you to a world of tranquility and natural splendor.
Embrace the Magic of the Seasons Visiting Muskoka Beach Park offers unique experiences throughout the year. One enchanting moment occurred on the first day of Spring in 2021, as we were greeted by the magnificent sight of Frozen Lake Muskoka in Gravenhurst. The bright sunshine contrasted with the frozen lake, creating a surreal and exhilarating atmosphere. This region's beauty is not confined to a single season, as the vibrant fall colors paint a mesmerizing picture, captivating all who witness the radiant foliage. Whether you're exploring frozen wonders or reveling in the rich hues of autumn, Muskoka Beach Park offers an unforgettable backdrop for your outdoor adventures.
A Playground for Outdoor Enthusiasts Beyond the allure of the beach, Muskoka boasts a myriad of activities to satisfy any adventurer. Hiking, cycling, boating, and kayaking opportunities abound, inviting you to immerse yourself in the natural wonders that surround the area. Take a moment to explore the vibrant trails and indulge in the beauty of nature. For those seeking cultural experiences, Gravenhurst offers plays and music events at the Gravenhurst Theatre, providing a delightful blend of entertainment and artistic expression.
Muskoka Lakes vs. Algonquin National Park Comparing the two areas, it is undeniable that the Muskoka Lakes region offers a wealth of activities and facilities that cater to a diverse range of interests. While the trails may not be as extensive as those found in Algonquin National Park, they are meticulously maintained and accessible to individuals with varying levels of hiking and walking abilities. Immerse yourself in the breathtaking vistas and relish the vibrant hues of fall that transform the region into a magical wonderland.
A Serene Escape from the Bustle As with any popular destination, Muskoka Beach Park can become busy at times. To enjoy a more serene experience, consider visiting during sunset, when the crowd of children has subsided. You'll be rewarded with breathtaking sunsets that paint the sky with a kaleidoscope of colors, leaving you in awe of nature's artistry. Restroom facilities and convenient parking are provided, ensuring that your visit is both comfortable and hassle-free.
A Vision for the Future The revitalization of Muskoka Beach has been identified as an approved 2021 capital budget project, showcasing a commitment to preserving and enhancing this natural gem. As you immerse yourself in the beauty of Muskoka Beach Park, take a moment to appreciate the ongoing efforts to protect and nurture this cherished destination for future generations to enjoy.
Experience Muskoka Beach Park Plan your visit to Muskoka Beach Park and embark on a journey that will awaken your senses and rejuvenate your spirit. Whether you seek relaxation on the sandy shores, exhilarating water activities, or scenic exploration, this charming park promises an unforgettable experience. Allow yourself to be captivated by the serenity of Lake Muskoka, and let the natural beauty of Muskoka Beach Park create lasting memories that will linger in your heart for years to come.
Rosseau Waterfront Park: Your Gateway to Lakeside Bliss in Rosseau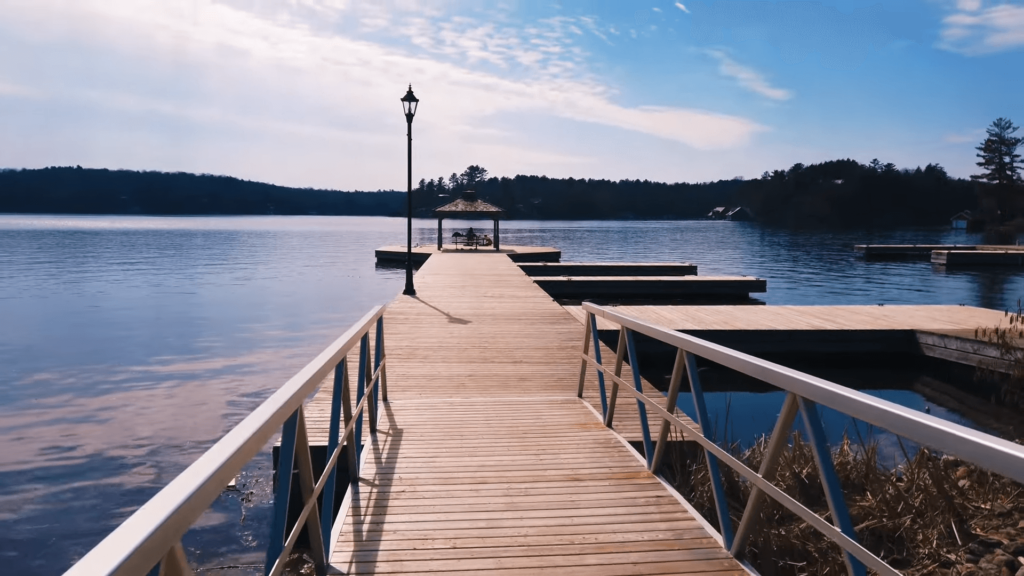 This picturesque park is situated on the pristine shores of Lake Rosseau, an exquisite body of water located in the northeast corner of Muskoka. Renowned for its luxurious real estate, this charming community offers a slice of paradise that can be enjoyed by all at Rosseau Waterfront Park.
A Family-Friendly Haven Rosseau Waterfront Park welcomes visitors with its pleasant boardwalk, meticulously manicured lawns, and delightful beach that caters to families. Soft sand and a sandy-bottomed shoreline provide a safe and enjoyable environment for all ages to frolic in the water. The presence of a diving platform adds an element of excitement, making it a perfect spot to soak up the sun and relish in the refreshing lake waters.
An Abundance of Amenities Beyond the idyllic beach, Rosseau Waterfront Park offers an array of amenities to enhance your visit. Younger children can delight in the adjacent playground, providing hours of entertainment and laughter. Picnic tables invite families to savor delicious meals amidst the scenic surroundings, while conveniently located washrooms and change rooms with showers ensure comfort and convenience for all. The park also hosts a kids' swim program, a vibrant farmers market on Fridays from May to Labor Day, a boat launch for aquatic adventures, and a captivating waterfront gazebo, setting the stage for a memorable summer adventure.
Enchanting Attractions and Tranquil Beauty Rosseau Waterfront Park is not just a destination; it's a gateway to a world of enchantment. Throughout the summer, visitors can immerse themselves in the vibrant atmosphere of the Farmers Market, featuring high-end vendors set against the backdrop of the park's grassy area. Live music adds a delightful rhythm to the air, further enhancing the experience. The lakefront beach, staffed with lifeguards during summer, offers a shallow haven for little ones to splash and play. Explore the well-maintained park, taking leisurely walks along the water's edge and marveling at the spectacle of boating activities. Even during the fall months, the park exudes charm, with majestic autumn colors adorning the shores of Lake Rosseau.
A Tranquil Retreat for All Rosseau Waterfront Park provides a serene escape for visitors of all ages. Whether you seek solace in a good book, enjoy a delightful picnic, take a refreshing swim, or create cherished memories with your children at the playground, this park offers a sanctuary of relaxation and rejuvenation. Revel in the beauty of nature surrounding you, be it the shimmering lake, the lively boats, or the vibrant foliage. Take a moment to immerse yourself in the tranquility of this pristine park and envision yourself in the heart of Muskoka.
Rosseau Waterfront Park beckons you to embrace its charm and embark on a journey of serenity and natural splendor. Discover the hidden treasures of this idyllic destination, and let its tranquil beauty leave an indelible mark on your soul.
Windermere Park: Nature's Splendor in Muskoka Lakes!
Windermere, a captivating destination on the shores of Lake Rosseau, is a must-visit location for your Muskoka beach itinerary. Resembling its namesake in England's Lake District, this charming village community boasts one of the premier resorts in Muskoka: Windermere House. With its iconic red and white facade overlooking the glistening waters, this historic hotel has been welcoming guests since 1870.
Step into Windermere Park, just steps away from Windermere House, and discover a delightful haven perfect for families with young children. The sandy and shallow beach provides a safe and enjoyable environment for little ones to splash and play. Parents can find respite from the sun's rays under the shade while still keeping a watchful eye on their youngsters.
Enhancing your visit, the park offers amenities such as washrooms and picnic tables, ensuring a comfortable and convenient experience for all. Nearby public docks and a boat launch invite you to embark on aquatic adventures and explore the stunning surroundings of Lake Rosseau. And after a fun-filled day at the beach, treat yourself to a delectable lunch or an enchanting evening meal at Windermere House, where you can relish the breathtaking views from one of Muskoka's finest patios.
Windermere is not just a place of sun and sand; it offers an array of activities for nature enthusiasts and adventure seekers alike. From the boat launch area, you have two enticing options. Explore the marshlands, where you can witness the wonders of nature, including eagle nests, waterfowl, and the mesmerizing fish visible in crystal-clear waters. Alternatively, venture out into the vast expanse of the main lake, a sightseer's paradise that will leave you in awe of its majestic beauty. For those seeking an exhilarating experience, there are boat rentals, as well as canoe and kayak rentals, readily available nearby.
Windermere's allure transcends the seasons, making it a year-round destination that captivates visitors with its postcard-perfect charm. Whether you are strolling along the beach in the summer, indulging in thrilling water activities, or immersing yourself in the tranquility of the winter landscape, Windermere offers an abundance of experiences to suit every taste.