When it comes to exceptional craft beer, Muskoka breweries are at the forefront of the brewing scene. With their commitment to quality and innovative flavors, these breweries offer a truly memorable experience for beer enthusiasts. Whether you're a hop lover, a fan of smooth and rich stouts, or prefer crisp and refreshing lagers, Muskoka breweries have something to satisfy every palate.
Let's explore the top Muskoka Breweries
Sawdust City Brewing
Sawdust City Brewing, an extraordinary brewery nestled in the heart of Gravenhurst, Ontario. With a passion for pushing boundaries and creating mind-blowing brews, this is the ultimate destination for beer enthusiasts. Led by the talented brewmaster, Sam Corbeil, the team at Sawdust City Brewing has mastered the art of crafting award-winning beers that will take your taste buds on an unforgettable journey.
Prepare to be captivated by a sensational array of flavors. From classic ales to innovative experimental brews, Sawdust City offers something to suit every beer lover's preferences. With a commitment to using only the finest, all-natural ingredients, their exceptional beers are a testament to their dedication and craft.
But Sawdust City Brewing is not just about the beer itself; it's an experience. The vibrant labels and warm atmosphere create a welcoming and enjoyable environment. Knowledgeable tap masters are on hand to guide you through their extensive selection, ensuring you find the perfect beer to match your taste and preferences.
Stay ahead of the game by keeping an eye on their upcoming brews. Sawdust City Brewing consistently introduces new and exciting flavors, ensuring there's always something extraordinary waiting to be tasted. Immerse yourself in the unique aromas and flavors that set their brews apart from the rest.
The team at Sawdust City Brewing is not only passionate about their craft but also about providing exceptional service. Whether you're a seasoned beer expert or a newcomer to the world of craft beer, their friendly staff will make you feel right at home. And if you're feeling peckish, fear not, as Sawdust City Brewing offers delicious food options that perfectly complement their beers. Indulge in mouthwatering dishes like the Sawdust Burger or the flavorful Flora Wrap, ensuring you leave satisfied in every way.
On a sunny day, head outside and enjoy their cozy patio. While there may be ongoing construction, rest assured that the patio bar service remains top-notch. Savor your favorite brew while basking in the lively atmosphere and take a moment to snap a photo in the giant Muskoka chair—a whimsical touch that adds to the overall charm.
Sawdust City Brewing has become a beloved hotspot in Gravenhurst for a reason. It's the perfect place to unwind, relish in great food, and indulge in outstanding beers. The exceptional service provided by their team will make you feel like a VIP, leaving you with unforgettable memories and an eagerness to return.
Make sure to try the Norway Pilsner, a fan favorite that will delight your taste buds. And for all the hop enthusiasts out there, Sawdust City Brewing is your paradise. Explore their fancy and hoppy brews with their beer flights, a fantastic way to fully experience the variety they offer.
So, make your way to Sawdust City Brewing in Gravenhurst. Prepare to be amazed by their incredible beers, delectable food, and vibrant atmosphere. Once you've experienced the magic of Sawdust City, you'll find yourself eagerly anticipating your next visit. Cheers to unforgettable moments and extraordinary brews!
Muskoka Brewery
Muskoka Brewery, located in Ontario, this brewery offers a range of delightful beers, knowledgeable staff, and a welcoming atmosphere that will leave you wanting more.
When you visit Muskoka Brewery, you'll be greeted by their taproom, a haven for beer enthusiasts. Open daily, it's the perfect place to explore and shop for a variety of beers, spirits, and merchandise. And if you're in the mood to enjoy the great outdoors, their newly expanded patio and open-air pavilion are waiting for you. Sip on your choice of beer options, including their refreshing Hard Sparkling Water. Don't worry if you're looking for alcohol-free options—they have you covered. You can also indulge in a small snack menu, perfect for satisfying those cravings. The patio operates on a first-come, first-served basis, and they warmly welcome your four-legged friends. Rest assured, Muskoka Brewery has implemented Covid protocols to ensure your safety.
Now, let's talk about the star of the show—the beer! Muskoka Brewery takes pride in offering beers that are truly remarkable. The friendly and knowledgeable staff will guide you through their diverse selection, ensuring you find the perfect beer to suit your preferences. If you're a fan of juicy/hazy IPAs and NEIPA styles, you're in for a treat. These flavorsome brews come highly recommended, and you won't be disappointed. Thanks to the exceptional service provided by the staff, including server Tom, your experience at Muskoka Brewery will be nothing short of amazing.
Although tours are currently unavailable, Muskoka Brewery has set up a shop outside where you can purchase their beers. The accommodating staff will assist you, and you'll even have the opportunity to grab a sampler pack, allowing you to explore a variety of their brews. This exclusive experience is not to be missed and offers a chance to take a piece of Muskoka Brewery home with you.
If you're keen to learn about Muskoka Brewery's fascinating process and history, be sure to sign up for a tour when available. Previous visitors rave about their informative tours, guided by knowledgeable individuals like Jaden. Additionally, the bar and gift shop area are a treasure trove, offering a wide range of Muskoka Brewery merchandise and an extensive selection of beers for purchase. It's a must-visit destination if you find yourself in the area.
Muskoka Brewery goes above and beyond when it comes to customer service. One delighted customer shared their experience when they encountered issues with their keg setup. The taproom staff quickly came to the rescue, driving all the way to their cottage with backup equipment to resolve the problem. Such dedication and exceptional service truly exemplify the commitment of Muskoka Brewery to their customers.
Visiting Muskoka Brewery is worth the extra travel time, as many visitors can attest. The friendly staff, excellent beers, and easily accessible location make it a top choice for beer enthusiasts. Whether you're a fan of lagers or IPAs, Muskoka Brewery has something for everyone. Make sure to explore their gift shop, which offers cool-looking merchandise, including stylish shirts.
When you visit Bracebridge, be sure to carve out some time to enjoy the brewery's inviting patio. Breathe in the fresh Muskoka air while savoring a variety of beverages—each one a delightful creation by Muskoka Brewery.
Muskoka Brewery is a place where beer lovers can rejoice. With their exceptional beers, welcoming atmosphere, and dedicated staff, it's an experience that will leave a lasting impression. Plan your visit today and indulge in the flavors that make Muskoka Brewery a true gem in Ontario's craft beer scene. Cheers
Lake of Bays Brewing Company
Lake of Bays Brewing Company offers a brewery tour and tasting experience that will leave you with a newfound appreciation for craft beer. Set against the stunning backdrop of Ontario's cottage country, this brewery invites you to taste the great outdoors and immerse yourself in a world of flavors.
As you embark on a circle tour around the Lake of the Bays, be sure to make a stop at Lake of Bays Brewing Company. With a great selection of craft beers, this charming brewery is situated on the shores of the lake, providing a serene and idyllic setting for your tasting experience. Supporting local breweries while on vacation is always a wonderful choice, and at Lake of Bays, you'll find their entire lineup of beers enjoyable.
Upon entering the brewery, you'll be greeted by the friendly and knowledgeable staff, who provide top-notch customer service. Their passion for the product is evident as they guide you through the tasting and offer helpful recommendations based on your preferences. Whether you're a seasoned craft beer enthusiast or new to the world of craft brews, the staff at Lake of Bays will ensure you have a memorable and enjoyable experience.
In addition to the exceptional beer, Lake of Bays Brewing Company also offers delicious food options. Whether you're looking for a quick snack or a satisfying lunch, you won't be disappointed. The combination of great beer and delicious food creates the perfect pairing for a memorable visit.
The brewery's patio is a cool and vibrant space adorned with art and colorful decorations. It's the ideal spot to savor your beer while enjoying the beautiful surroundings.
For honeymooners or couples celebrating a special occasion, Lake of Bays Brewing Company is an excellent choice. The wide variety of beers available, along with the option to purchase souvenir pint glasses, allows you to create lasting memories as you toast to special moments.
Even if you're not a beer drinker, the charm of Baysville is undeniable. The town may be tiny, but it is bursting with character, making it worth a visit. And if you're passing through the area on your way to cottage country, Lake of Bays Brewing Company is the perfect place to make a pit stop. Although it's located 15 kilometers off the highway, the drive is worth it, and the friendly staff and quality beer make it a memorable destination.
Lake of Bays Brewing Company takes pride in their craft, and their commitment to innovation is evident. With a range of beers to suit various tastes, including favorites like Spark House, Paddle On, and Peach Paradise, they also keep things interesting with new additions throughout the year. This ensures that every visit to the brewery brings new and exciting flavors to explore.
The company's dedication extends beyond their beer. Lake of Bays Brewing Company supports local food businesses and encourages visitors to bring their own snacks and food to enjoy with their beer. While the majority of the staff is friendly and passionate, it's worth noting that one individual may exhibit unhappiness, which could impact their ability to deliver outstanding customer care. Nevertheless, the overall experience at Lake of Bays Brewing Company is sure to leave you satisfied.
Canvas Brewing Company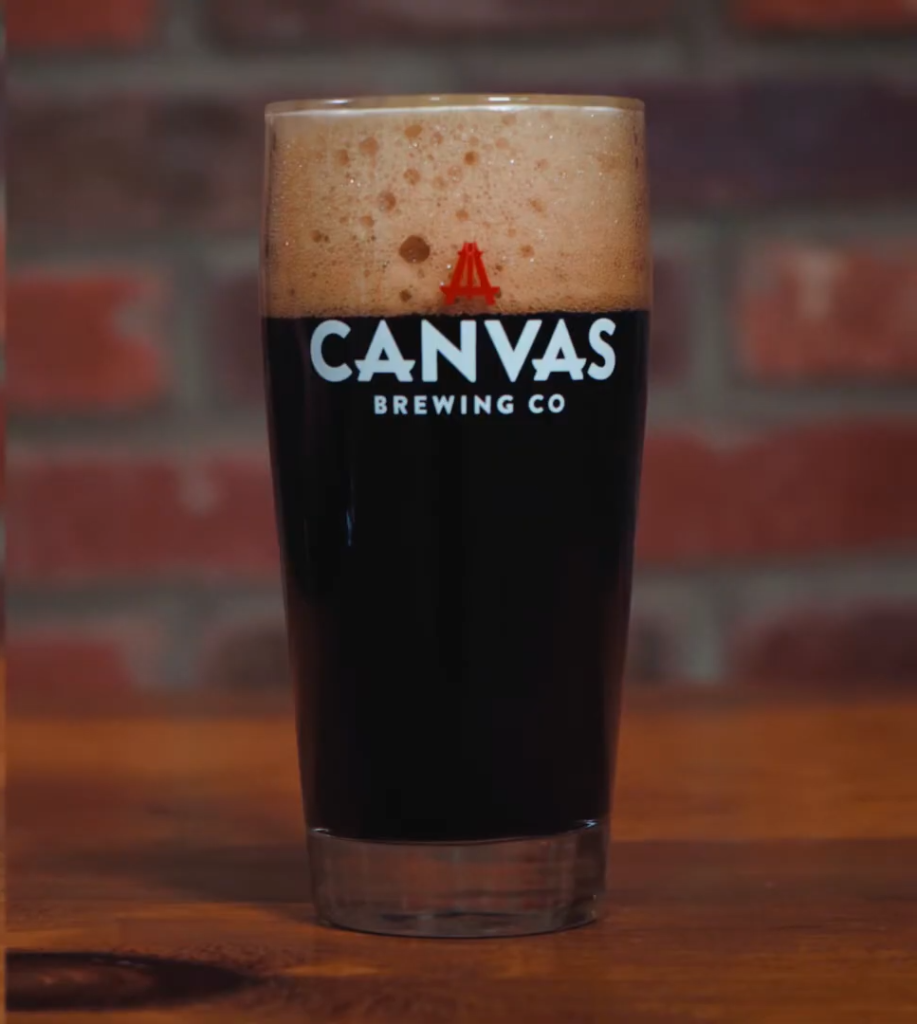 Canvas Brewing Company is a must-visit destination for craft beer enthusiasts. This craft brewery, taproom, and event space offer a delightful experience with its two outdoor patios, a retail store offering beer to go and brewery merchandise, and a lively atmosphere that keeps visitors coming back for more.
One of the standout features of Canvas Brewing Company is its commitment to providing more than just craft beer. While their selection of craft beers is undoubtedly impressive, the staff is friendly and welcoming, creating a warm and inviting atmosphere for guests. The brewery also hosts entertainment on Saturday afternoons, ensuring that visitors can enjoy live music while sipping on their favorite brews.
Speaking of brews, the beers at Canvas Brewing Company are not only tasty but also served at the correct temperature, enhancing the overall drinking experience. Whether you're a fan of classic styles or looking to try something new and adventurous, their flavorful and diverse selection will leave you spoiled for choice. For those seeking a taste of nostalgia, the Kolsch is highly recommended, offering a reminiscent flavor of Germany.
The prompt and pleasant staff further enhance the experience at Canvas Brewing Company. Their knowledge of the beers and willingness to assist with recommendations ensure that every visitor finds a beer that suits their preferences. The event room adds to the overall vibe, providing a great space to enjoy live music or other special events hosted by the brewery.
If you're looking to enjoy the outdoors, Canvas Brewing Company offers not just one, but two outdoor patios. The rooftop patio provides a scenic view while you indulge in your favorite brews, and the option to bring your own food allows for a personalized dining experience. Additionally, you'll find a variety of food trucks nearby, offering a range of delectable treats to complement your beer.
Canvas Brewing Company is known for its warm and welcoming staff who create a relaxed and friendly environment. The spacious indoor area and multiple patios provide ample seating options, making it a perfect gathering place for friends. The brewery also caters to diverse tastes by offering a selection of beverages beyond craft beer, including wine and specialty drinks like Pina Coladas.
When visiting Canvas Brewing Company, don't miss out on trying their pretzels, made on-site and renowned for their amazing flavor. And if you're in the mood for something different, the brewery's proximity to various food trucks allows you to bring your own food and enjoy it alongside their beverages.
With its lively atmosphere, great beer selection, and friendly staff, Canvas Brewing Company has established itself as one of the best craft breweries in the area. Whether you're a local resident or a visitor to Huntsville, this brewery is a must-visit destination to indulge in the vibrant craft beer scene and create lasting memories with friends and loved ones. Cheers to an unforgettable experience at Canvas Brewing Company!
Katalyst Brewing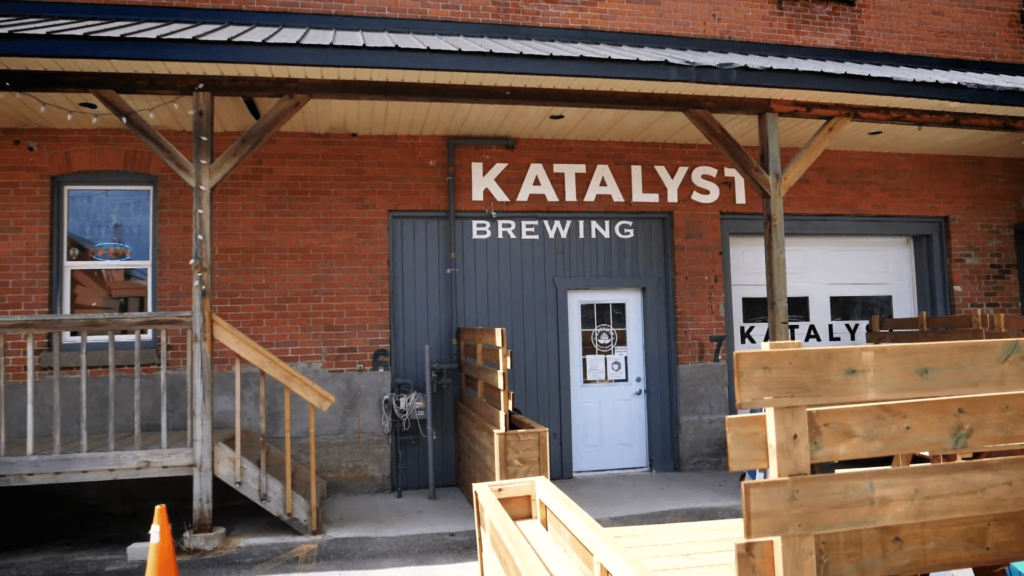 Katalyst Brewing is a hidden gem for craft beer enthusiasts. This cozy taproom offers a delightful experience with its rotating selection of beers, including pilsners, lagers, stouts, IPAs, and more. Whether you prefer light, crisp, and refreshing brews or strong, full-bodied, and hoppy flavors, Katalyst Brewing has something to satisfy every palate.
One of the highlights of Katalyst Brewing is its commitment to quality and variety. With a rotating selection of beers on tap, each visit to the taproom promises a new and exciting experience. The skilled brewers at Katalyst Brewing continuously craft unique and flavorful beers, ensuring that every pint is a delightful adventure. Whether you're a fan of traditional styles or eager to explore innovative and experimental brews, Katalyst Brewing has something for everyone.
Located in Downtown Bracebridge, Katalyst Brewing offers the perfect opportunity to not only indulge in exceptional craft beer but also explore the charming main strip of the town. After enjoying a pint or two at the taproom, take a leisurely walk and discover the local shops, boutiques, and galleries that line the streets. Bracebridge offers a unique blend of small-town charm and a vibrant arts scene, creating a delightful atmosphere for locals and visitors alike.
At Katalyst Brewing, the focus is not only on crafting exceptional beer but also on providing a cozy and inviting space for beer enthusiasts to gather and enjoy. The taproom offers a welcoming ambiance, making it the perfect spot to unwind, socialize, and savor the flavors of their handcrafted brews.
Whether you're a seasoned craft beer aficionado or new to the world of craft beer, Katalyst Brewing is a destination that should not be missed. The rotating selection of beers, from traditional favorites to exciting experimental brews, promises to surprise and delight your taste buds. With its location in the heart of Bracebridge, you can make the most of your visit by exploring the main strip and discovering the unique offerings of the town.
So, if you find yourself in Bracebridge, make sure to carve out some time to visit Katalyst Brewing. Indulge in their exceptional craft beers, soak in the cozy atmosphere of the taproom, and take the opportunity to explore the vibrant Downtown Bracebridge. With its commitment to quality, variety, and a warm and inviting atmosphere, Katalyst Brewing is a must-visit destination for any craft beer enthusiast. Cheers to an unforgettable experience at Katalyst Brewing in Bracebridge!